Welcome to the Folk Magic Festival Website!

Thank you to all of the attendees and presenters that made the 2013 Folk Magic Festival event magical and memorable. It was a wonderful 4th year of the event and the best yet!
There are exciting new developments for this year's festival coming soon!
We look forward to seeing you for the 5th Annual Folk Magic Festival in 2014. Stay tuned for the dates...

Check out the Schedule Page for a listing of all workshops/events that were offered this year. Sindy, Orion, Susan, Starr & Wolf (Conjure Crossroads) brought you a series of workshops designed to give you the tools & passion to work with the spirits!

This year we also had a special event on Monday focusing on

Divination: Finding and working with your most important tool in conjure.

It

was a lot of fun and our host Arnauds provided wonderful food, service and atmosphere.
For those of you who attended this year or past years, please send us an This email address is being protected from spambots. You need JavaScript enabled to view it. with your highlights and special stories. We'd love to hear them.
Susan, Sindy, Starr, Wolf & Orion are looking forward to reconnecting with you all again next year and seeing old and new friends.
Be sure and Check Out to our Blog Talk Radio podcast. Subscribe and enjoy listening to the many archived radio shows. We have quite a library already there.
"Laissez les bons temps rouler"
(Let the good times roll)
-Conjure Crossroads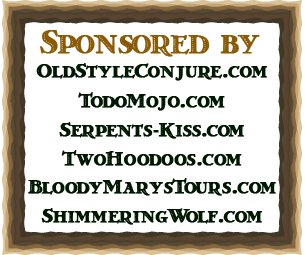 Conjure Crossroads on Blog Talk Radio