Susan Diamond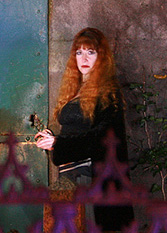 Susan's earliest memories, starting at around age four, involve her grandmother teaching her how to do divination with a button on a string. On her 7th birthday her mother gave her her first tarot deck. Divination and Magic are Susan's passions and she has dedicated her life to magical and healing practices. Along the way, Susan earned a degree in Psychology with an emphasis on Biology, helping to facilitate her natural counseling, psychic, and healing abilities.
In a response to a desire to bring earth based spirituality & magic back to its roots, Susan started a professional business in the field and has had a magical arts shop for over 15 years. Her private practice of readings and spell work spans decades. Susan has also created a learning center for alternative faiths, cultural creatives, and magic so that others may learn and grow.
Susan is a tarot card reader, psychic consultant, astrologer, rootworker, shamanic practitioner, initiated Palera, energy worker, teacher, dream walker, and owner of Serpent's Kiss Magic Shop and Botanica, Crossroads Community Space, & Dancing Gypsy. She is a founding member of AIRR (Association of Independant Readers and Rootworkers), Co owner of 2hoodoos.com with Orion Foxwood, and one of the 5 members of Conjure Crossroads, facilitators of Conjure Con in Santa Cruz, and The Folk Magic Festival in New Orleans. She has extensive knowledge of crystals and herbs, reflected in many of her custom herb, mineral, and oil preparations, incenses, soaps, waters, sprays, mojo hands, and candles. She is the sole creator and distributor of Dancing Witch & Moon Garden oils, incense, candles, soaps and baths and creates the many items you find at her shop.
Susan was voted as the Best Psychic in Santa Cruz County 2012, 2013 and 2014 by the local community, published in the Santa Cruz Weekly Goldie Awards and GoodTimes Best Of magazines.
Born at moonrise in November, Susan is a water baby with 4 planets in Scorpio, a Cancer Moon and Cancer Ascendant. A native New Yorker, Susan now lives with her life partner, Shimmering Wolf who is the designer of all her product labels, and web developer, their Wolf Dog and two cats in the Santa Cruz Mountains of California. In her spare time she is an avid foodie & chef. She plans and facilitates a co-creative fire circle, dance & drumming experience with her partner Wolf monthly in the redwood mountains of Santa Cruz.